Overview of Services
The High Resolution Electron Microscopy Facility (HREMF) provides a resource to the scientific community at MD Anderson for high resolution imaging of cells, tissues, organs or polymers containing cancer agents. The facility is located at the Smith Research Building (South Campus) and houses a JEOL JEM-1010 transmission electron microscope (TEM), a JEOL JSM-5900 scanning electron microscope (SEM) equipped with a backscattered electron detector, a Bal-Tec Technotrade coating system, a Leica Ultramicrotome, a Leica Ultrostainer and other ancillary accessories needed to prepare samples for SEM and TEM. A technologist with histological training is available to assist researchers in defining their specific needs related to SEM and TEM. Both electron microscopes are equipped with digital cameras. The facility operates on a charge-back basis only for processing of samples and the number of microscope hours used to screen samples with technical assistance.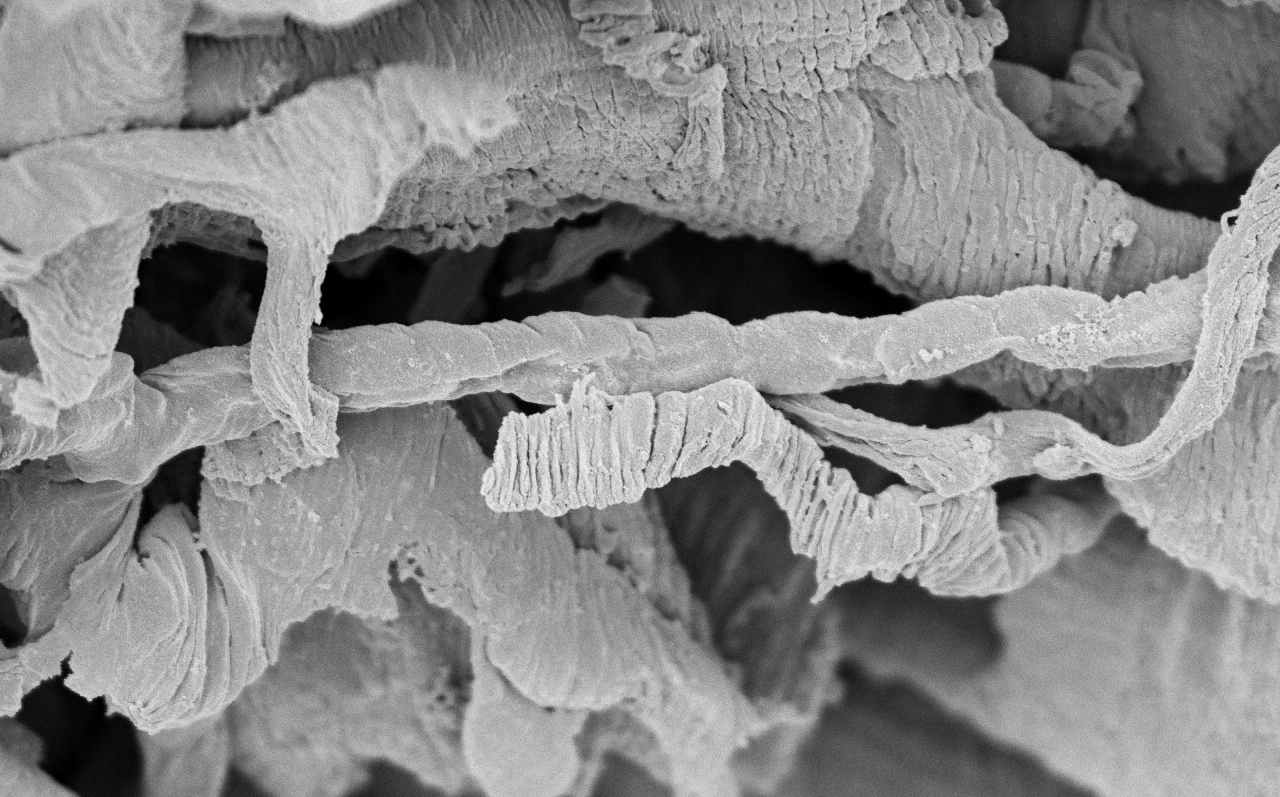 Scanning electron micrograph of the coronary microvasculature of a mouse that has been treated with a small molecule tyrosine kinase inhibitor of platelet-derived growth factor receptor beta. Image courtesy of Dr. Aarif Khakoo.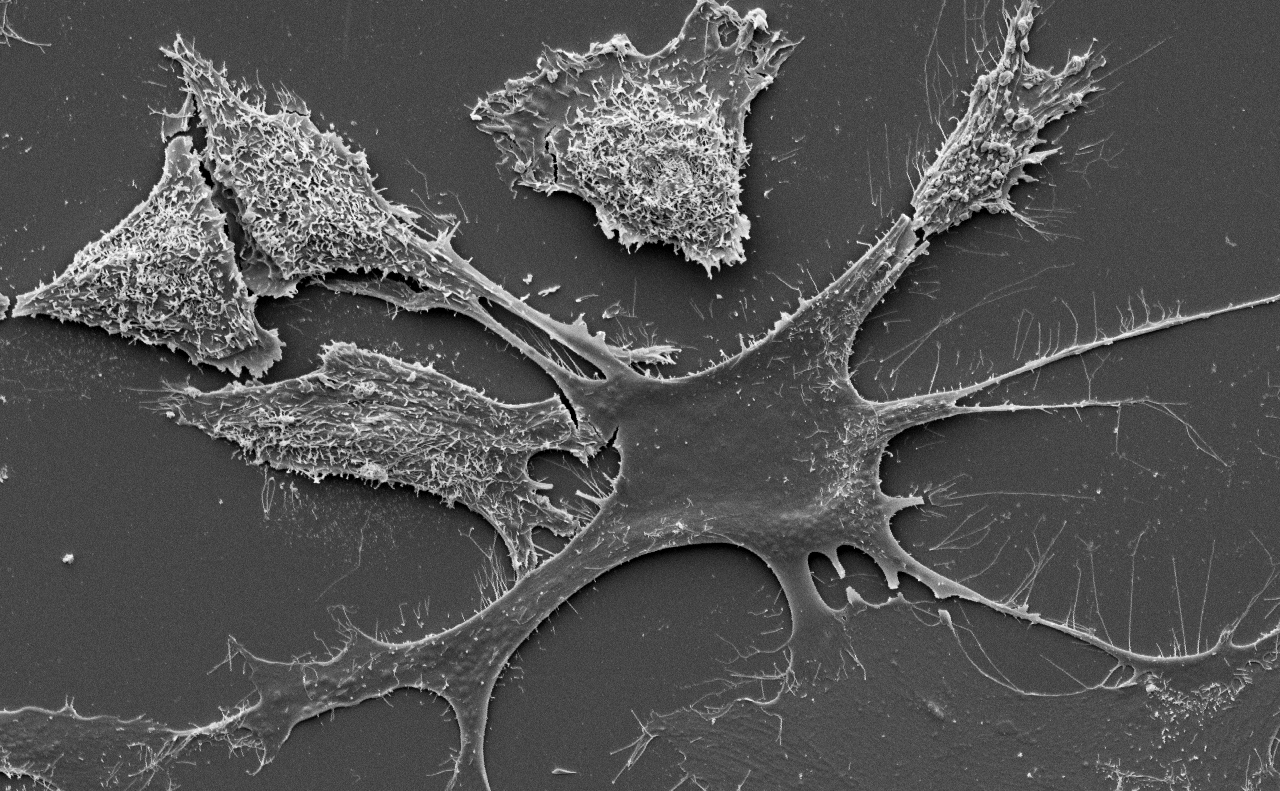 Scanning electron micrograph of breast cancer cells interacting with an astrocytes. Astrocytes upregulate survival proteins in cancer cells which protect those cells against chemotherapeutic agents such as temozolamide. Image courtesy of Dr. Isaiah Fidler.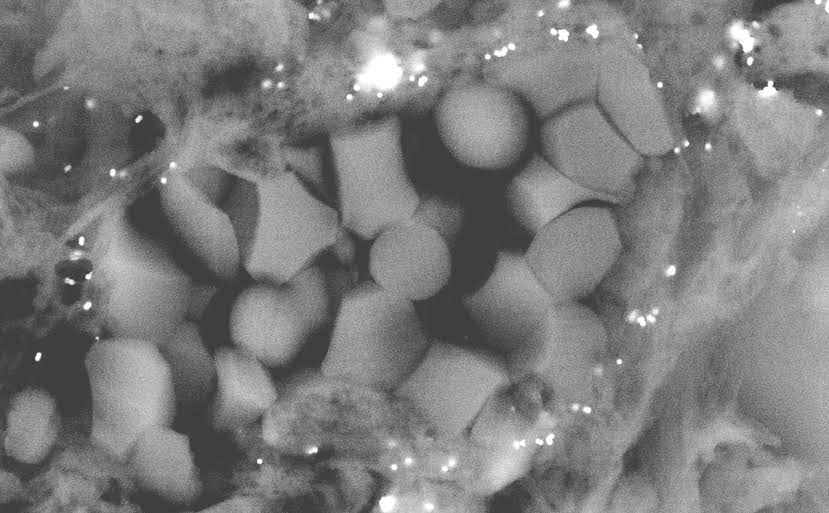 Scanning electron micrograph of gold nanoparticles localizing to the microcirculation of an experimental model of breast cancer. The blood vessel lumen contains several red blood cells and the nanoparticles are the small white structures.
Leadership
Robert R. Langley, Ph.D., Core Director
Kenneth Dunner, Jr., A.S., B.S., Core Manager
Location and Hours of Operation
Hours

Location

6:00am - 3:00pm

Monday - Friday

Smith Research Building
7777 Knight Road
Houston, Texas 77054
Links and Resources
Search available services:

Name
Description
Price

Cellular Ultrastructure Morphology

Hourly Rate

 

For routine TEM imaging of cell and tissue structure and subcellular ultrastructure.

Inquire

Exosome Characterization Studies

Hourly Rate

 

Morphological, size, and protein  assessment (immunogold labeling). Provides valuable information regarding sample purity and gives an overview of the level of contamination of the sample, for example with larger vesicles, such as microparticles, apoptotic bodies or cell debris.

Inquire

Miscellaneous Charge

Exact charge will be dependant upon the specifics of your request.

Inquire

Monitoring Autophagy

Hourly Rate

 

TEM analysis for detection of autophagy and quantification of autophagic accumulation.

Inquire

Nanoparticles/nanostructures and Negative Staining

Hourly Rate

 

For imaging small, 3-D nanoparticles/nanostructures adhering to grids.

Inquire

Surface Morphology

Hourly Rate

 

For routine SEM imaging of cell and tissue surface structure.

Inquire

Unassisted Use

Inquire